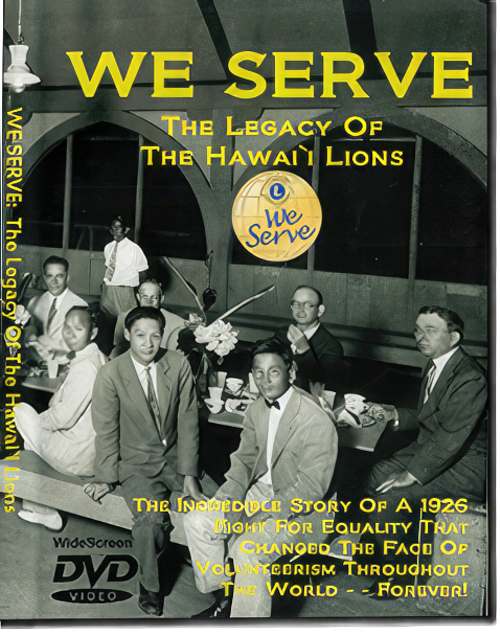 WE SERVE
The Legacy of the Hawai'i Lions
The Incredible story of a 1926 fight for equality that changed the face of Volunteerism throughout the World – Forever!
Regular price: $16 US
Shipping: $3 per DVD
Narrated by: Diane Ako
Written & Directed by: Jim Bryan
Original Music by: Steven Espaniola & John Tussey
Format: Widescreen ONLY
Running Time: 64 Minutes
---
NOTE: The video preview below has been modified from its original version that is on the DVD for time and formatting in Full HD. The DVD is HD 720p.
SKIP to @4:36 for Pan Pacific & Lions Club merger with Lions Club International
What's on the DVD…
MAIN EVENT – TITLE CARD
How the Lions of Hawaii Came to Be
Nolle Smith & the Growing Organization
Knights of the Blind in the Crusade Against Darkness
Wartime & Post Era Lions
Hawaii Lions Eye Bank & Makana Foundation
LIONS CLUB FIRST IN HAWAII
First club internationally to be named after an individual
First to coin the Lions Motto
Birth of the Lions Pledge
Madame Pele, first recorded female Lions Club Member
The Largest Parade in Hawaii History
OUT OF THE BOX FUNDRAISING
The Amazing Waikiki Snowball Fight
Bullets for Hitler War Bonds Campaign
2 Decades of Broom Sales
…and more!
SIGNATURE PROJECTS
Blind Vendors
City Bus Stops